Custom Roman Blinds
With the right window treatment, any room can transform from ordinary to extraordinary. One such window treatment that consistently ranks high on the popularity charts is Roman Blinds. When it comes to choosing Roman Blinds, Crazy Joe's Drapery and Blinds is a trusted name, known for providing a myriad of options tailored to suit your style, taste, and budget.
Roman Blinds are a versatile, elegant, and functional window treatment that can add a stylish touch to any room. These blinds offer a perfect balance between light control and privacy. With their compact, clean lines when raised and visually appealing soft folds when lowered, Roman Blinds can give a chic and sophisticated look to your windows.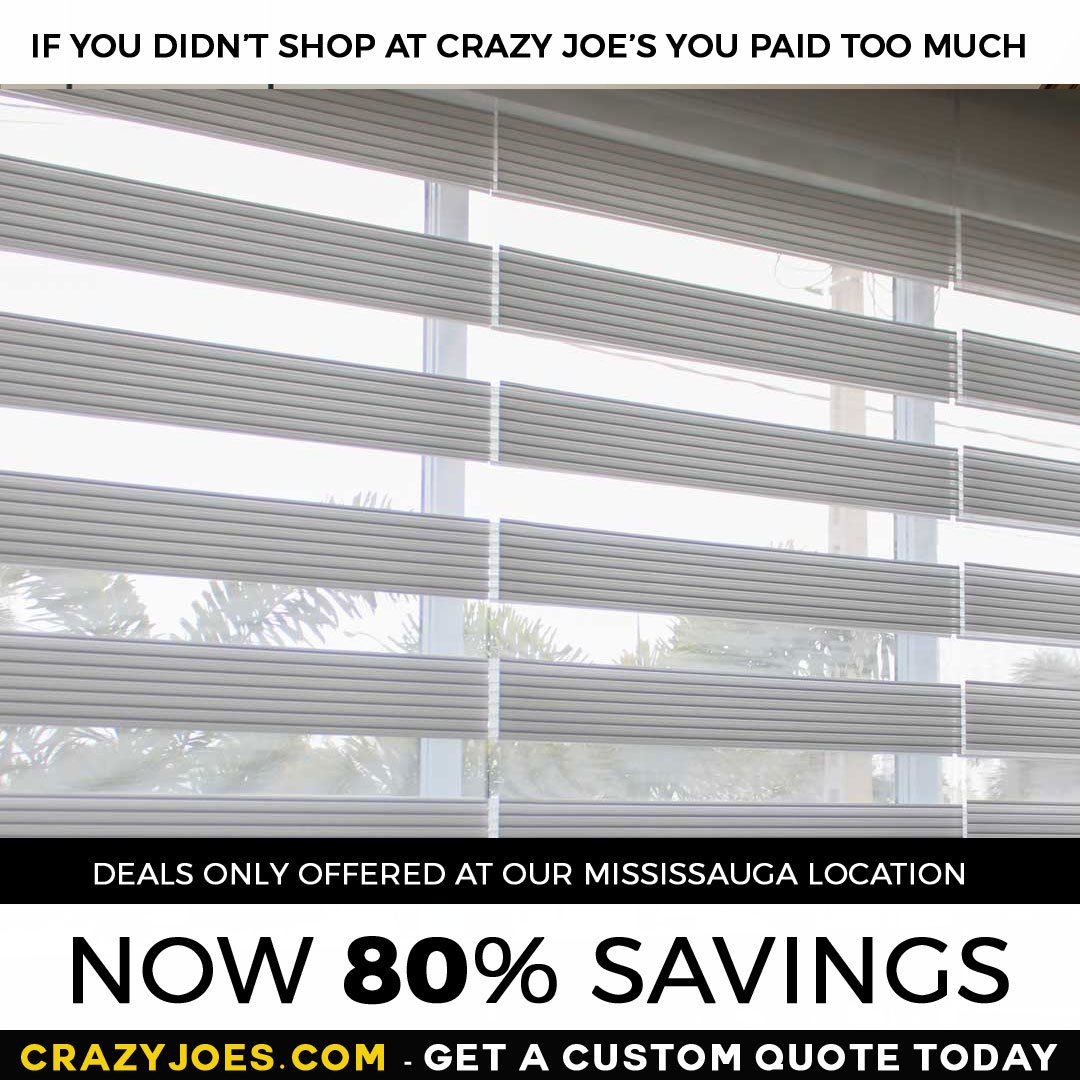 Roman Blinds Styles
At Crazy Joe's Drapery and Blinds, we offer a wide range of Roman Blinds styles to complement any decor. From classic to contemporary, subtle to bold, we have every style of Roman Blinds to cater to your unique taste. We also offer custom Roman Blinds, where you can choose from a wide selection of fabrics, patterns, and colours to create a bespoke window treatment that perfectly fits your home decor.
The installation of Roman Blinds is a breeze with Crazy Joe's Drapery and Blinds. We have a team of skilled professionals who ensure a seamless and hassle-free installation. Whether you opt for our inside mount or outside mount Roman Blinds, our experts will make sure that your blinds fit perfectly and function smoothly.
The benefits of Roman Blinds go beyond aesthetics. They are perfect for controlling the amount of sunlight entering your room, thus helping in reducing energy costs. The insulating properties of the fabric used in Roman Blinds can keep your room warm in winter and cool in summer, providing year-round comfort. Plus, Roman Blinds offer optimal privacy, making them an excellent choice for bedrooms and bathrooms.
Roman Blinds Benefits
But what about maintaining this beautiful window treatment? Fret not, as Roman Blinds are easy to care for. Regular light dusting or vacuuming with a brush attachment can keep your blinds looking new. For deeper cleaning, most Roman Blinds fabrics are detachable and can be dry cleaned. Rest assured, with Crazy Joe's Drapery and Blinds, you get not only stylish and functional Roman Blinds but also a product that lasts.
Choose Crazy Joe's Drapery and Blinds for your Roman Blinds needs, and be ready to experience quality, variety, convenience, and impressive customer service. Our commitment to providing the best value for your money makes us your one-stop shop for all things Roman Blinds.
So, are you ready to explore the world of Roman Blinds and discover the magic it can do to your space? Visit Crazy Joe's Drapery and Blinds store or check out our online selection today. Let us help you bring your vision to life with our stunning range of Roman Blinds.
Roman Blinds Maintenance
Remember, when it comes to window treatments, Roman Blinds are not just a choice. They are a lifestyle. And at Crazy Joe's Drapery and Blinds, we ensure that you get the best of this lifestyle. Experience the beauty, elegance, and versatility of Roman Blinds with us today and transform your home like never before.
So, what are you waiting for? Give your windows the makeover they deserve with Roman Blinds from Crazy Joe's Drapery and Blinds. Make a style statement with our range of Roman Blinds and let your windows do the talking. With Roman Blinds, bring home the perfect blend of form and function, style, and comfort!