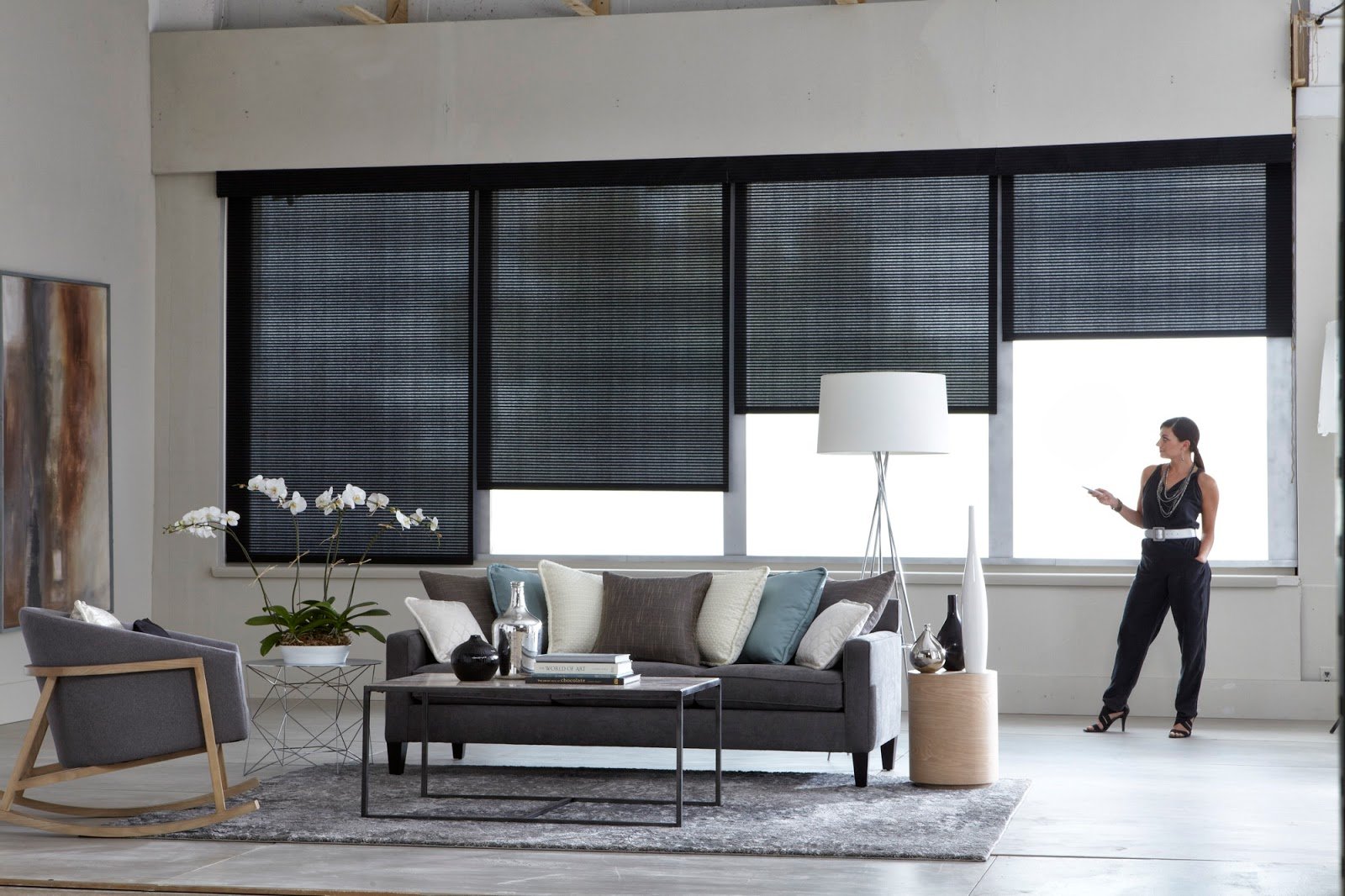 Custom Made Blinds BURLINGTON
Motorized Blinds Burlington AT COST PRICE.
COME TO THE STORE TO SEE OUR LARGE CLEARANCE SELECTION

There are many different kinds of window blinds, using different systems and materials.
Many window blinds are made with slats of fabric, wood, plastic or metal that adjust by rotating from an open position to a closed position by allowing slats to overlap. A roller blind does not have slats but comprises a single piece of material.
The horizontal version uses a thin woven "ladder" system to suspend the slats and enable slats to be closed via a rotating drum to which each upper end of the woven ladder is wrapped and attached. A lift cord allows the blind to be pulled up and stack tightly to top of window when desired.
Venetian A Venetian blind has horizontal slats, one above another. Venetian blinds are basic slatted blinds made of metal or plastic; wooden slats.
Shutters may be employed for a variety of reasons, including controlling the amount of sunlight that enters a room, to provide privacy, to protect against weather and to enhance the aesthetics of a building. Depending on the application, and the construction of the window frame, shutters can be mounted to fit within the opening or to overlap the opening. The term window shutter includes both interior shutters, used on the inside of a house or building, and exterior shutters, used on the outside of a structure. On some styles of buildings it is common to have shutters to cover the doors as well as the windows.
Vertical Blinds uses a generally wider slat and has the added feature of being able to pull a cord to stack the slats together either to one side or to separate in the centre and stack on each end. This vertical blind allows rotation of slats by a rotating shaft in the upper head rail housing which runs through independent geared carriers that will convert twisting of tilt rail to a rotation of each individual slat in synchrony
Best Price, Quality and Service
Price:
Crazy Joe's makes everything in our factory and has 50 years of business connections to fabric designers, hence we pass on the savings to you.
Quality:
We make everything in our own factory and with 50 years of experience we are able to give the best quality. See our over 200 Five Star Reviews.
Service:
Because we make everything in our factory we are able to give you a 3 to 7 day turn around time. Big box stores usually take weeks.
We also offer a guarantee on satisfaction.
[contact-form-7 id="3882" title="Get in Contact"]